Year 8 join the bespoke aspirations programme!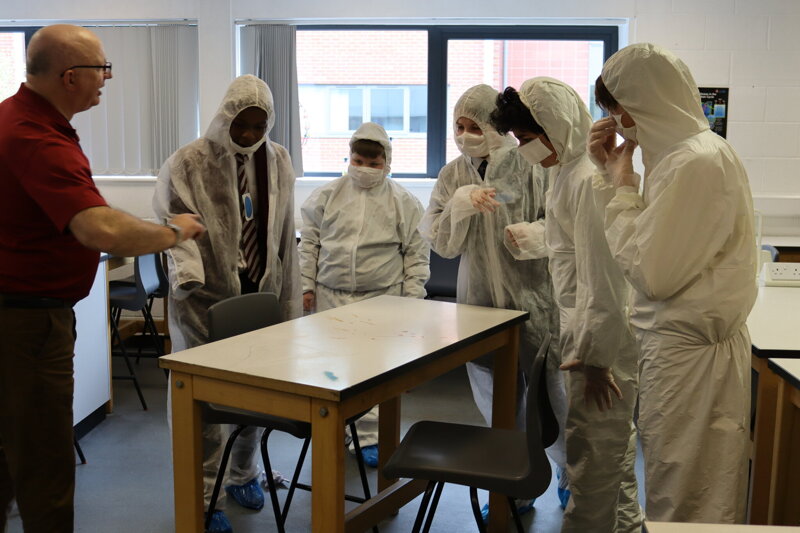 Year 8 high achieving students from Longdendale High School and Rayner Stephens High School paid a visit to Ashton Sixth Form College as part of the bespoke Aspirations programme exclusively available to students within Stamford Park Trust.
The theme of the day saw the students take part in a murder mystery event, using their skills in the core subjects of Science, English and Maths.
In Science, students learnt how to protect a crime scene, gather and analyse evidence and form conclusions on who could be the guilty suspect.
English saw students discover how linguistics can be used in solving a crime, by looking at clues in the suspects social media posts and text messages. The grammar, punctuation and use of language, gave the likely suspect a 'linguistic fingerprint' which added suspicion against one suspect in particular.
In Maths, students worked in groups to solve a range of challenging puzzles to crack codes and open locks in an escape room style challenge. Eventually this helped them discover coded messages and parts of a jigsaw that when combined, unlocked the code of the leading suspects iPad which contained strong evidence as to the perpetrator of the crime.
The students showed commendable team working skills throughout and enjoyed the experience.
There is real strength in our collaboration, that's why we encourage all students to participate in our flagship Aspirations programme, exclusive to the members of our Stamford Park Trust Family. Designed to help students develop both academically and personally, and prepare for a bright future ahead, whether at university, in higher-level apprenticeships or in the world of work. All students, from year 7 to year 11, have the opportunity to work with the college, local universities and prestigious employers to help them become the very best version of themselves.