Commemorating the Coronation of King Charles III across the Trust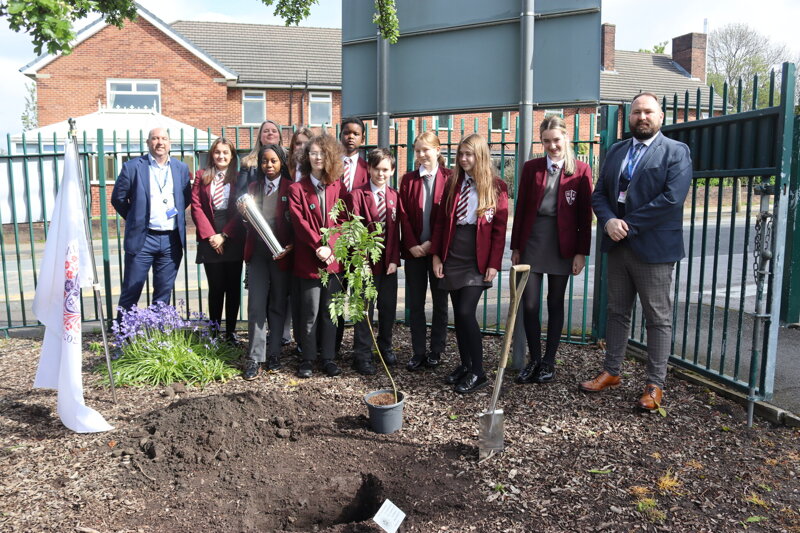 To commemorate the Coronation of King Charles III, all academies across Stamford Park Trust have each planted an oak tree and a time capsule on their individual sites.
Stamford Park Trust CEO, Anton McGrath held a small ceremony at each academy where the occasion was marked with poems written by students before planting the capsule containing special items for students of the future to learn about this historic event.
Items in the capsule included branded school materials, photographs of school life, as well as memories of the Queen and mementos from the coronation celebrations in school.
Blessing in Year 8 at Rayner Stephens High School wrote a wonderful poem to celebrate the occasion, which highlights what a momentous event this is for students across the country. Over at Longdendale a coronation poem was written by our Year 7 creative writing club and read by Sian in Year 9.
We hope that the future generation of students will discover the capsule to learn more about school life and this historic event.
Students also spent time learning about the Royal Family and their history and tucking into Coronation cupcakes!
Stamford Park Trust CEO Anton McGrath said "At Stamford Park Trust, we wanted to do something a little different to commemorate the coronation of King Charles III. The planting of trees represents the new King's passion for nature and the natural world and will serve as a physical reminder of this time in our history. The time capsules, once opened, will provide a social history of those who studied and worked across our academies in the future."