Ashton Sixth Form College launches Be Ambitious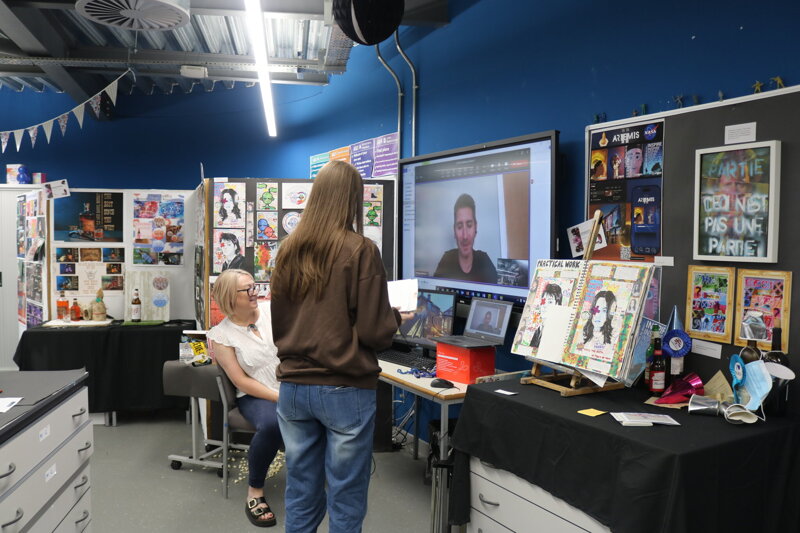 Ashton Sixth Form College has successfully launched their flagship 'Be Ambitious' project which ensures students have access to meaningful employer encounters helping them develop key employability skills.
The week, sponsored by Stamford Products Ltd, has seen the college partner with major employers and industries in Greater Manchester to deliver work placements, employer-led projects and workshops, all to give students real experience of the working world.
Mayor of Greater Manchester Andy Burnham opened the week with an inspiring talk on the importance of soft skills and employability as well the future labour market in Greater Manchester.
Day one saw students embark on their work placements to gain first-hand experience of being in a professional environment including production running at the BBC, shadowing at the office of MP Jonathan Reynolds, volunteering for the NHS and much more.
Students have also participated in employer-led projects from high profile organisations such as Network Rail, BBC, British Airways, Tameside Council, Kellogg and more. Industry mentors set real-time briefs for students asking them to contribute to a live project, ranging from marketing and branding of Ashton Town Centre and Regeneration with Tameside Council, design briefs of products to support the health care industry with Stamford Products, designing a dream school with Balfour Beatty and much more.
Students have spent the week working on their proposals supported in college by teachers as well as regular meetings with industry experts, before presenting back their ideas, research and proposals.
Finally, workshops have taken place throughout the week for students to prepare them for future employment. These have included creating a LinkedIn profile, becoming an entrepreneur, social media skills and other opportunities to develop transferable skills.
The standard of work delivered by students has been commended by employers. Jack Scott from Capgemini UK said "we have been blown away by the level of detail that students have put in their presentation – the amount of research and thought that they put into their ideas was clear to see. Putting the content aside though, the delivery of the presentation was brilliant too! It was great to see all of them present and push themselves out of their comfort zones."
Director of Curriculum and Progression at Ashton Sixth Form College, Rachel Smirke who led on the project said "I am so proud of all our students that have taken part in Be Ambitious week. The students have been enthusiastic, mature and really proactive at getting stuck into their work placements and employer-led projects. Industry mentor feedback is phenomenal and lead teachers have also made wonderful comments about the students throughout the week.
One of the most notable things is how the students have come together to work as a team, with natural leaders standing out and a real confidence growing throughout the week. The pilot project has been a great success and we look forward to working closely with all our partner organisations again next year. Thank you to all the staff and employers who have supported throughout the week and well done to all the students!"
The week was sponsored by Stamford Products Ltd and supported by Dawn Lee, the college's Enterprise Advisor. Paul Moulder Design Director at Stamford Products LTD and Industry Mentor added "As part of our partnership with Ashton Sixth Form College, Stamford Products Ltd was invited to submit an employer project brief to engage students with an industry-led venture. Ten students chose to participate in the design project we put forward.
I visited the college on Monday to present the design brief, which was a great opportunity to introduce the group to our organisation and tell them a bit about my own career path and the task at hand. Interestingly, the students were drawn from an array of different courses, not just design-based ones, and didn't know each other. I divided them into two teams, making sure each group was led by someone on a design course.
Shortly after this initial session, we had an online Teams meeting, giving the students the chance to ask any questions they had and make sure they were on the correct path. They then went off to work in their groups.
This all led up to Presentation Day! Darren Blore, Medstor Product Manager, and I were met by the ten students involved in the project. Both teams used PowerPoint to present their research and design proposals, with each group member participating.
We were very impressed with the research into applicable manufacturing processes, suitable materials, and the design process, that led to two equally accomplished outcomes. The proposals far exceeded our expectations, given the short timeline, and we were delighted with the students' efforts.
"This was definitely a very worthwhile project to be involved with – well done to all the students; I hope this has encouraged them to consider a career in product design."
Lisa Richard, Centre Principal at Ashton Sixth Form College summarised "I had high hopes for our first Be Ambitious event as this has been several months in the planning, but I couldn't be prouder of how the week has gone.
Our students have fully engaged with their work experience and their employer-led projects, and the positive feedback from employers is flowing in. The creativity, attention to detail and leadership that our students have demonstrated leaves me very excited about what our students will achieve in the future.
Well done to them and to our fantastic Guidance team for organising the week"
The week has been a huge success in piloting the Be Ambitious project, preparing students for employment whether that's post college or university. Ashton Sixth Form College would like to thank all partners who have been involved in the project in all capacities and the students who have shown dedication and hard work throughout the week.
Be Ambitious Employability Programmer will continue throughout next year as the college introduces more opportunities for students to fully develop their transferable skills. If you are an employer who would like to get involved in supporting the project, please email us at beambitious@asfc.ac.uk
If you'd like to find out more about studying at Ashton Sixth Form College, open events for prospective students will take place on Tuesday 26th September 5-8pm and Saturday 14th October 10 – 1pm.