Trust students work toward their Extended Project Qualification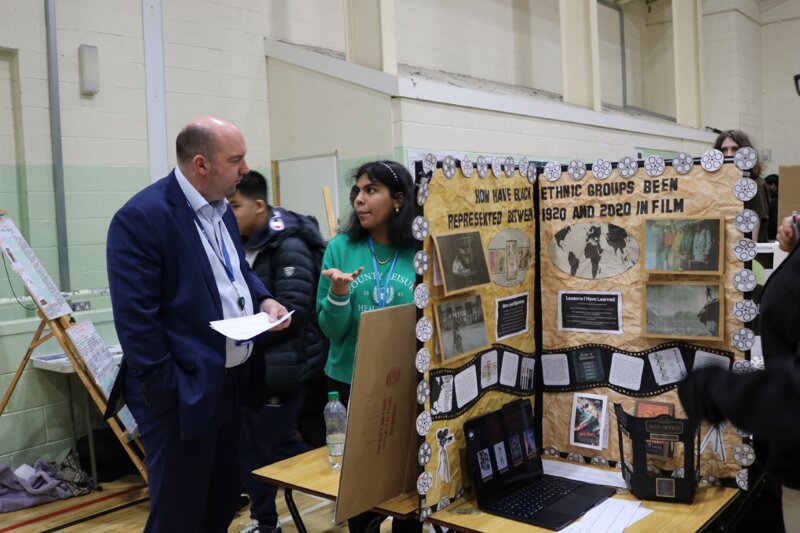 On 23rd March 2023 students at Ashton Sixth Form College took part in their Extended Project Qualification (EPQ) presentation, where they had a chance to showcase their research and findings after undertaking their EPQ.
Ashton Sixth Form College offers the Extended Project Qualification (EPQ) as part of their curriculum. The EPQ is an additional qualification, equivalent to 1 AS Level, that allows students to develop a personal interest in a topic or area that interests them.
Completing the EPQ allows students to carry out independent research and a level of commitment that universities and employers look for. Students who complete the EPQ are often at a distinct advantage in their Personal Statements and university interviews which can help them to stand out.
16 students from our Trust Schools took part in this year's cohort with subjects ranging from serial killers to neuro-parasites.
Alisha Broomhall from Longdendale High School told us " I focused my EPQ on whether Serial Killers are innate or manufactured, with a specific focus on UK serial killers. Although I was initially interested in this topic because I wanted to go into forensic psychology but through doing my EPQ have decided on a career in social work after my findings about dysfunctional childhoods."
I felt my presentation went really well, I enjoyed speaking to people and enjoyed writing my essay. I gained many skills from doing the EPQ including time management, academic writing, research skills, referencing, and writing a large piece of writing."
The event held in the sports hall had a real buzz, students took pride in their presentation and could talk through their findings with ease and should be extremely proud of themselves.