Stamford Park Trust pay their respects to the Queen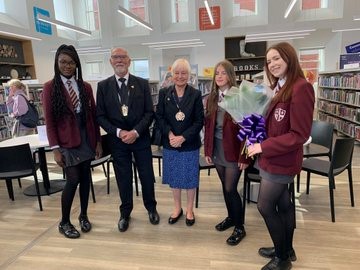 The whole nation was shocked and saddened by the announcement of the Queen's passing on Thursday 8th September 2022.
The Queen reigned for over 70 years and was known the world over. Her service to the nation and dedication to duty was clear for all to see and will never be forgotten.
Students from Longdendale and Rayner Stephens High Schools and Ashton Sixth Form College joined the Mayor in the laying of flowers in respectful memory of our late Queen Elizabeth II. Students also signed the book of remembrance at Tameside One.
They were a credit to their schools and the college, and a credit to the Trust.
Tags: rayner ashton sixth form longdendale